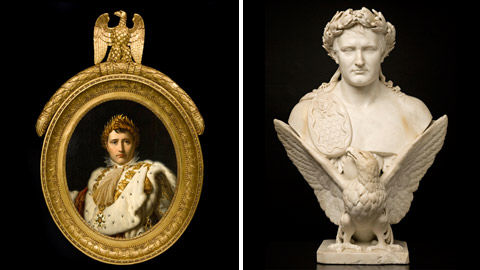 Last Sunday, I was at the Musée des Beaux Arts to see Ben Weider's Napoleon Collection. For anyone ever visiting Montreal, this exhibition is an absolute must see- especially if you're a Napoleon lover.
The museum hosts permanent galleries dedicated to Napoleon and the First Empire. The stuff is absolutely breathtaking! Mr. Weider devoted his life to Napoleon research, finds and study. With well over 100 objects, his collection is not only extensive and rare, it is incredibly spectacular.
I couldn't get enough of the paintings, silverware, porcelain, statues, clockmaking and Empire furniture. The stuff just cried out to me- I kept imagining Napoleon and Josephine dining and entertaining amidst these precious belongings. There was even a section with Napoleon's nightshirt, boots and hat. Everything was in immaculate condition. I could have spent days roaming the galleries over and over again (goodness, what will I do when I visit Malmaison)!
Source: Michel Joanny-Furtin
The
Montreal Museum of Fine Arts
hosting the permanent Napoleon Exhibition is located:
Jean-Noël Desmarais Pavilion
1380 Sherbrooke Street West, Montreal
Information
514-285-2000
*